Although it's only February, graduation season is approaching soon so it's time to gather your graduation party ideas. Don't be late on planning your party, as often last-minute planning is much more stressful and the party might not turn out how you want to. Here we're sharing our best graduation party ideas when it comes to everything from centerpieces, drinks, decorations and food.
If college is part of your plan, here are 4 tips for parents of new college students.
6 Creative Graduation Party Ideas To Set Your Party Apart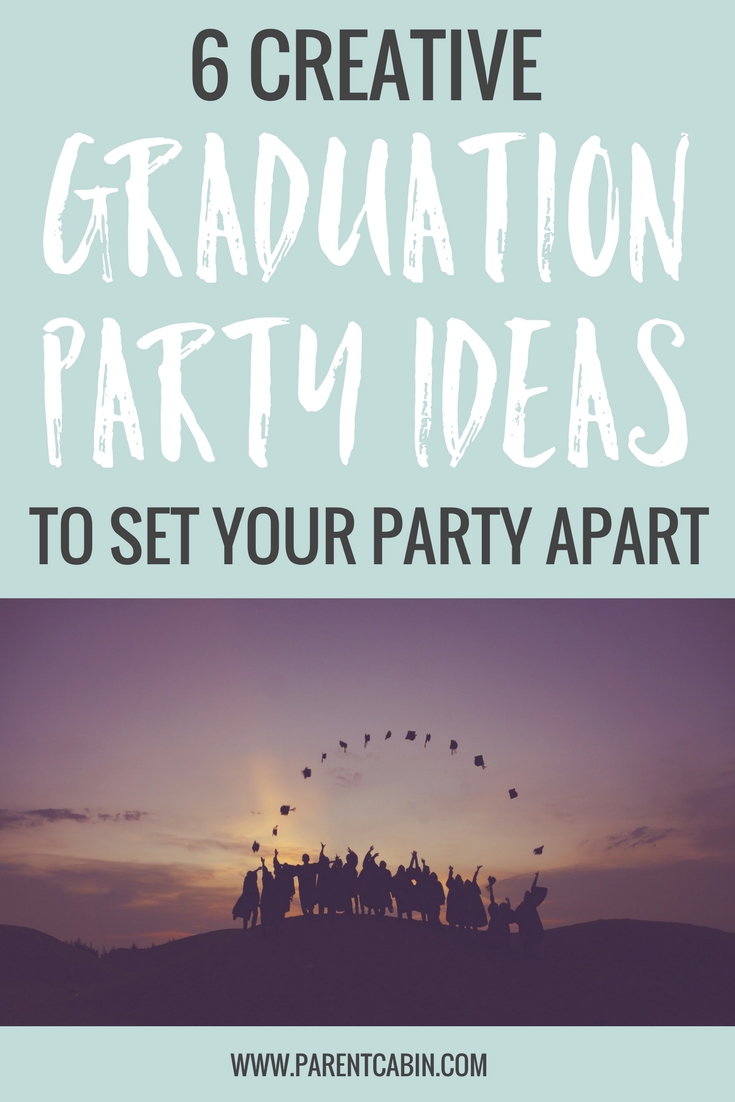 Decorations
First, pick a theme you want to plan your event around. Usually the colors of the graduate's high school or college would be perfect. If the graduate is going to college or graduate school it also could be fun to use the colors of their future university. Use plastic, colored tablecloths to add a fun element to your tables (while also making clean up super easy).
Add fun decor like DIY tassels (using tissue paper), photo collages of your graduate from toddler to adult, and balloons (the colors of your graduate's school or metallic number balloons with their graduation year).
Table Decor
Much of the time your guests spend will be at tables with other guests. Be sure to theme the tables accordingly and put cute centerpieces in the middle. Something as simple as small flower vases themed to the school colors you're using will suffice, but you could go as bigger.
[bctt tweet="6 Creative Graduation Party Ideas To Set Your Party Apart" username="ParentCabin"]
Food
Catering is honestly your best bet. Although it may be a bit more pricey, it will be so worth it with the time you'll save spending hours in the kitchen. This way you guarantee that your food will be ready on time, also while ensuring you'll have enough food. Appetizers can be homemade, but for the main course we highly recommend choosing a caterer. Be sure to have snacky foods like chips and dip and other easy things around for your guests.
Dessert
Many cake/candy companies offer custom desserts that can be decorated to your school of choice. You can order items like cake pops, rice krispie treats and chocolate covered pretzels themed to both your graduates previous and future schools. This is a great way to personalize your desserts, while having crowd favorite flavors.
Something Interactive
A great way to have your guests interact with your party is to have something for them to do. Having games like cornhole or ladder toss are easy ways to entertain, without maintenance. Also, allowing your guests to offer their advice on high school/college/graduate school is a great way for your guests to take part in your event. Have sheets of paper, pens, along with a jar to put them in so your guests can share their own bits of advice for the graduate.
Something A Bit Extra
A way to make your graduation party really stand out from the rest is to make a Snapchat filter. I guarantee your graduate will feel extra special that you went the extra mile to make their day even more unique. Snapchat now offers a super easy way to make Geofilters for cheap, without needing immense artistic ability. It will only cost you a few bucks and teenagers spending so much time on their phones will thoroughly enjoy this unique element to your party.